Is Organic Panko right for you?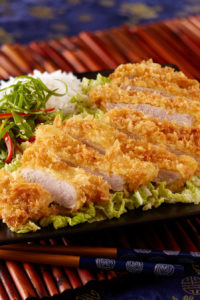 Considering adding an organic or clean label Panko for your restaurant menu?
The popularity of organic and clean label foods and ingredients continue to skyrocket, and aren't showing signs of slowing down anytime soon! Meeting the demands for healthier better-for-you foods isn't always easy, costs and short supply can pose problems. Organic products tend to be more expensive due to the extra monitoring required for the Organic certification and also the production/growing methods are different which affect crop yield.  But by using an All Natural product it could still address your needs for a clean label at a lower cost.
Organic Panko or All Natural Panko?
To make it easy Upper Crust Enterprises can provide you with both options.  We are USDA Certified Organic and can produce made-to-order organic Panko breadcrumbs but we also offer All Natural Panko, which is a more economical option. We have several options that will help you provide clean label ingredients to keep you and your customers happy.
Upper Crust Enterprises has been making Authentic Panko for over 35 years produced in the USA using USA supplied ingredients. The majority of our Panko is sold to Japanese and Asian restaurant chefs worldwide, however, because of our versatility and authentic quality we are becoming increasing popular in a wide range of restaurants, from Italian Bistros to major chain restaurants. Upper Crust Enterprise brand Panko is not available in grocery stores – our products are sold exclusively to professional chefs and restaurants.
All Panko is Not Created Equal
Upper Crust Enterprises makes Authentic Japanese Panko, which is far different than standard Panko. An authentic Panko will have a light airy texture and sliver (flakey) shape, which provides a light delicate coating vs. many standard Panko, which is hard, dense and round.
The ingredient declarations, performance and quality are the same for both our Organic Panko and All Natural Panko; the only difference is one ingredient, Organic Wheat Flour.
The Organic Panko has very simple ingredients and is made with:
• Organic Wheat Flour
• Organic cane sugar
• Yeast
• Sea Salt
The All Natural Panko also has simple ingredients and is made with:
• Unbleached Wheat Flour
• Organic cane sugar
• Yeast
• Sea Salt
We invite all professional chefs and food distributors to try a free sample of our Authentic Japanese Panko. Replace your current bread crumbs with Upper Crust Enterprises Japanese Panko bread crumbs and win big with your customers.
We guarantee our Panko will:
Taste lighter and crisper.
Stay crispy longer.
Provide a better yield than standard bread crumbs.
Organic or Clean Label, Upper Crust Enterprises has what you need and your customers expect. Experience first hand what an authentic Panko is and how it will affect your menu.