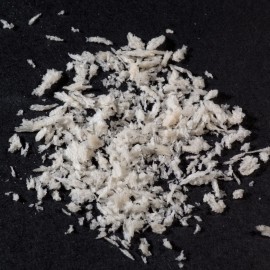 Large crumb panko (01020)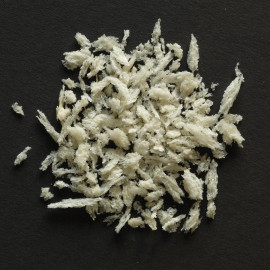 Extra large crumb panko (00020)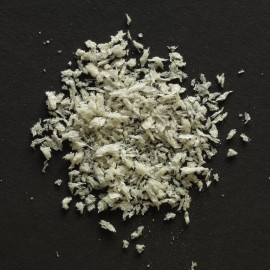 Medium crumb panko (00420)
Multiple Grind Sizes, Endless Uses
Upper Crust Enterprises Authentic Japanese Panko sliver shaped bread crumb provides a delicate crispy texture. Available in a range of grind sizes for endless menu applications: Extra Large, Large, Medium, Fine, Extra Fine, and even 3 XL size. Our most popular size is Large (code 01020).
Learn more
Request samples and let us help you bring truly authentic Panko to your restaurant.
Take the challenge, replace your standard Panko with Upper Crust Enterprises Authentic Japanese Panko and win big with your customers, we guarantee it.
Package Sizes for Large or Small Consumers
Available in package sizes to suit your restaurant's needs, Upper Crust Enterprises Panko has the right size for you.
20 pound bag
10 pound bag
2-10 pound case
24 oz package Cash & Carry pack
35lb bag (fine grind only)
Also available in Cash & Carry size 24oz bags with UPC scan code.
Learn more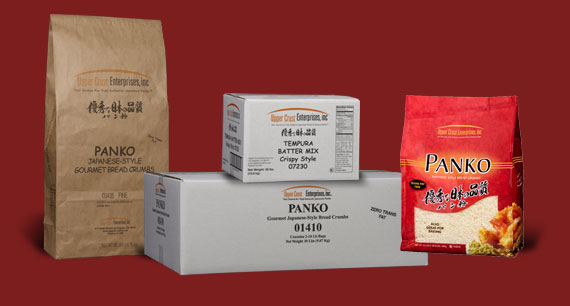 | U.C.E. CODE | UPC CODE | DESCRIPTION | Granulation Size | Pack |
| --- | --- | --- | --- | --- |
| 01020 | 00890749001013 | Japanese Panko - Tender & Crispy bite | Large | 20 lb bag |
| 01410 | 00890749001181 | Japanese Panko - Tender & Crispy bite | Large | 2-10 lb bag |
| 01620 | 00890749001068 | Japanese Panko - Tender & Crispy bite | Extra Large | 20 lb bag |
| 01010 | 00890749001167 | Japanese Panko - Tender & Crispy bite | Large | 10 lb bag |
| 00029 | 00890749001310 | Japanese Panko - Cash & Carry Packaging | Extra Large | 6-24oz bags |
| 00020 | 00890749001006 | Japanese Panko - Crispy Bite | Extra Large | 20 lb bag |
| 00420 | 00890749001099 | Japanese Panko - Crispy Bite | Medium | 20 lb bag |
| 00120 | 00890749001365 | ALL NATURAL Japanese Panko | Extra Large | 20 lb bag |
| 00110 | 00890749001839 | ALL NATURAL Japanese Panko | Extra Large | 10 lb bag |
| 00122 | 00890749001686 | ALL NATURAL Japanese Panko | Large | 20 lb bag |
| 00124 | 00890749001655 | ALL NATURAL Japanese Panko | Medium | 20 lb bag |
| 00130 | 00890749001921 | ALL NATURAL Japanese Panko | Fine | 30 lb bag |
| 00135 | 00890749001853 | ALL NATURAL Japanese Panko | Fine | 35 lb bag |
| 00120T | 00890749001716 | ALL NATURAL Japanese Panko - TOASTED BROWN | Extra Large | 20 lb bag |
| 01005 | 00890749001143 | NAMA Japanese Panko - Tender & Crispy | Large | 4-5 lb bags |
| 01932 | 00890749001637 | NAMA Japanese Panko - Tender & Crispy | 2X Large | 8-4 lb bags |
| 01916 | 00890749001266 | NAMA Japanese Panko - Tender & Crispy | 3X Large | 4-4 lb bags |
| 01925 | 00890749001662 | NAMA Japanese Panko - Tender & Crispy | 2X Large | 25 lb case |
| 02025 | 00890749001969 | Whole Wheat Panko (27 gram whole grain per serving) | Large | 25 lb bag |
| 03510 | 00890749001334 | Caribbean Coconut Panko | Large | 10 lb Bag |
| 03310 | 00890749001600 | Italian-Style Seasoned Panko | Medium | 10 lb Bag |
| 05025 | 00890749001136 | Panko Breadcrumbs (Crunchy bite) | Medium | 25 lb bag |