---
Nama Panko means Fresh Panko
Nama Panko is Panko which has not been dried. With its larger grind size, Nama Panko provides a more delicate, signature crispy texture, and larger plate presentation. It is also free of preservatives, Non-GMO, Trans Fat free, and great for vegetarian or vegan recipes.
Available in our largest grind sizes; Large, 2X Large, and 3X Large. However, because it is fresh, the shelf life shortened. Nama Panko must be kept frozen or refrigerated and used immediately after opening. Available in 4 or 5 lb. bags and 25 lb. bulk.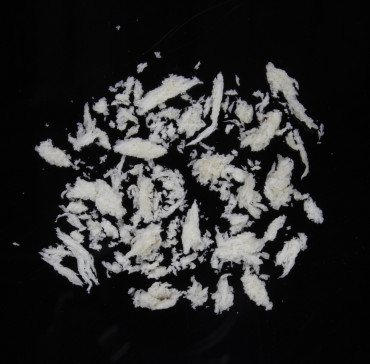 (Fresh) Nama Panko
Use Nama Panko in All Your Applications
(Fresh) Nama Panko can be used in all applications where dry Panko is used, but provides a different quality improvement to your menu.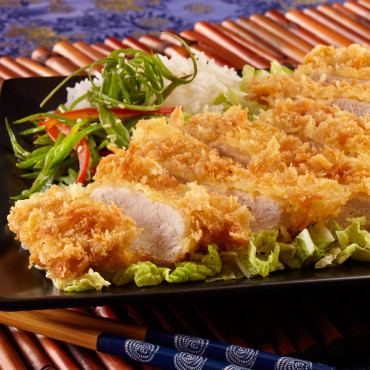 Pork Tonkatsu with fresh Nama Panko

100%
Verified Non-GMO
Our Process, Using Traditional Japanese Methods
For over 35 years, Upper Crust Enterprises Panko has been made with a proprietary blend of high protein flour and other quality ingredients. We do not add any chemicals or preservatives, just simple ingredients. We take our time and follow traditional Japanese methods to create an Authentic NAMA (fresh) Panko which tastes lighter and crispier than competitors with a nice slivery shape providing superior plate presentation.
Nama Panko is produced on special order--there are higher minimum requirements, but for the customer that demands the very best Panko available, Upper Crust Enterprises Nama Panko is your best choice.
Recipe Suggestions
VIEW ALL -
Eating is an experience and taste buds can get bored if the flavor or the textures are too uniform. A dish as simple as Mac and Cheese is a perfect example of how texture influences taste. The creamy texture of the dish is great, but after a few bites, your taste buds start looking for...

If you have a recipe that calls for special herbs and spices to make a mouthwatering breading, try it with Panko bread crumbs and see the positive reaction from your customers. Or if you have several restaurant locations, Upper Crust Enterprise's Signature Blends can be your perfect partner by blending your spice flavor with our...

Caliente la parrilla del horno a 400°F. Use langostas vivas, parta por la mitad a lo largo. Coloquelas en una hoja para hornear y dore por 5-6 minutos hasta que la carne este opaca. Sofrie cebolla, apio, pimenton verde y rojo, ajo y Upper Crust Autentico Panko (codigo 01020) en mantequilla por 3 minutos. Baje...
All Products
| U.C.E. CODE | UPC CODE | DESCRIPTION | Granulation Size | Pack |
| --- | --- | --- | --- | --- |
| 01005 | 00890749001143 | NAMA Japanese Panko - Tender & Crispy | Large | 4-5 lb bags |
| 01932 | 00890749001637 | NAMA Japanese Panko - Tender & Crispy | 2X Large | 8-4 lb bags |
| 01916 | 00890749001266 | NAMA Japanese Panko - Tender & Crispy | 3X Large | 4-4 lb bags |
| 01925 | 00890749001662 | NAMA Japanese Panko - Tender & Crispy | 2X Large | 25 lb case |