---
Package Sizes for Large and Small Consumers
Upper Crust Enterprises Panko is available in multiple pack sizes perfect for your restaurant.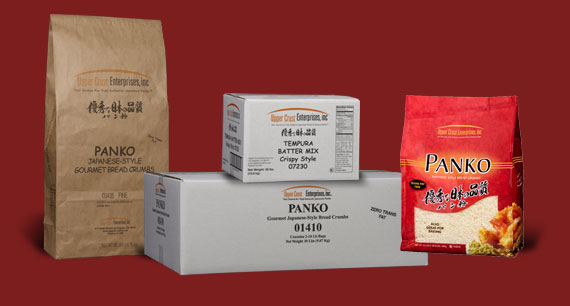 One Size Does Not Fit All
Upper Crust Enterprises Panko Products are available in multiple pack sizes.
20 pound bag
10 pound bag
2-10 pound case
24 oz package
35lb bag (fine grind only)
Also available in Cash & Carry size 24oz bags with UPC scan code.
Recipe Suggestions
VIEW ALL -
Eating is an experience and taste buds can get bored if the flavor or the textures are too uniform. A dish as simple as Mac and Cheese is a perfect example of how texture influences taste. The creamy texture of the dish is great, but after a few bites, your taste buds start looking for...

If you have a recipe that calls for special herbs and spices to make a mouthwatering breading, try it with Panko bread crumbs and see the positive reaction from your customers. Or if you have several restaurant locations, Upper Crust Enterprise's Signature Blends can be your perfect partner by blending your spice flavor with our...

Caliente la parrilla del horno a 400°F. Use langostas vivas, parta por la mitad a lo largo. Coloquelas en una hoja para hornear y dore por 5-6 minutos hasta que la carne este opaca. Sofrie cebolla, apio, pimenton verde y rojo, ajo y Upper Crust Autentico Panko (codigo 01020) en mantequilla por 3 minutos. Baje...
| U.C.E. CODE | UPC CODE | DESCRIPTION | Granulation Size | Pack |
| --- | --- | --- | --- | --- |
| 01020 | 00890749001013 | Japanese Panko - Tender & Crispy bite | Large | 20 lb bag |
| 01410 | 00890749001181 | Japanese Panko - Tender & Crispy bite | Large | 2-10 lb bag |
| 01620 | 00890749001068 | Japanese Panko - Tender & Crispy bite | Extra Large | 20 lb bag |
| 01010 | 00890749001167 | Japanese Panko - Tender & Crispy bite | Large | 10 lb bag |
| 00029 | 00890749001310 | Japanese Panko - Cash & Carry Packaging | Extra Large | 6-24oz bags |
| 00020 | 00890749001006 | Japanese Panko - Crispy Bite | Extra Large | 20 lb bag |
| 00420 | 00890749001099 | Japanese Panko - Crispy Bite | Medium | 20 lb bag |
| 00120 | 00890749001365 | ALL NATURAL Japanese Panko | Extra Large | 20 lb bag |
| 00110 | 00890749001839 | ALL NATURAL Japanese Panko | Extra Large | 10 lb bag |
| 00122 | 00890749001686 | ALL NATURAL Japanese Panko | Large | 20 lb bag |
| 00124 | 00890749001655 | ALL NATURAL Japanese Panko | Medium | 20 lb bag |
| 00130 | 00890749001921 | ALL NATURAL Japanese Panko | Fine | 30 lb bag |
| 00135 | 00890749001853 | ALL NATURAL Japanese Panko | Fine | 35 lb bag |
| 00120T | 00890749001716 | ALL NATURAL Japanese Panko - TOASTED BROWN | Extra Large | 20 lb bag |
| 01005 | 00890749001143 | NAMA Japanese Panko - Tender & Crispy | Large | 4-5 lb bags |
| 01932 | 00890749001637 | NAMA Japanese Panko - Tender & Crispy | 2X Large | 8-4 lb bags |
| 01916 | 00890749001266 | NAMA Japanese Panko - Tender & Crispy | 3X Large | 4-4 lb bags |
| 01925 | 00890749001662 | NAMA Japanese Panko - Tender & Crispy | 2X Large | 25 lb case |
| 02025 | 00890749001969 | Whole Wheat Panko (27 gram whole grain per serving) | Large | 25 lb bag |
| 03510 | 00890749001334 | Caribbean Coconut Panko | Large | 10 lb Bag |
| 03310 | 00890749001600 | Italian-Style Seasoned Panko | Medium | 10 lb Bag |
| 05025 | 00890749001136 | Panko Breadcrumbs (Crunchy bite) | Medium | 25 lb bag |