---
A Well-Balanced Flavor Profile
Upper Crust Enterprises All Purpose Seasoned Batter Mix is just like our extra crispy Authentic Tempura Batter Mix, but seasoned to perfection. It is a versatile batter mix with a well-balanced flavor profile ideal as a base batter for fish, chicken, vegetables, seafood, pork, or beef. It provides a light crispy texture that stays crispy for extended periods, but with a mild spice note. The batter can be mixed with water or beer to create a fantastic light and crispy beer battered fish for Friday fish fry.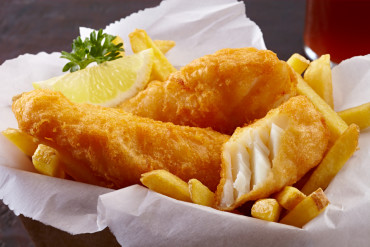 Dual Function Batter
The batter can also be used as a pre-dust and pre-batter to replace a flour and egg wash when using Panko as a final coat. By using the All Purpose Seasoned Batter mix it will allow you to pre-stage your coated items in the refrigerator so all you need to do is fry to order during the busy dinner or lunch rush.
The All Purpose Seasoned Batter Mix is a special blend of wheat flour, corn flour with mild spices. It is egg free, Trans fat free and is Kosher and Halal certified. It is packed in 25 lb. bags for easy batch blending.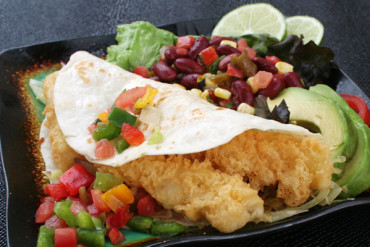 ALL PURPOSE SEASONED BATTER MIX
Recipe Suggestions
VIEW ALL -
It's rumored the birth of the Tempura Fish Taco occurred sometime in the 1930's. Japanese fishermen docked in the Ensenada region of Mexico had the ingenious idea to marry their tempura style of fish with the ingredients available to them in Mexico. This was beginning of something awesome – Tempura Fish Tacos!. Since then chefs...

Tempura Fish Taco: Recipe De-glaze fish (Cod, Pollock or Halibut) by rinsing in cold water and cut in strips. Dust fish in DRY Upper Crust Tempura Batter mix (code 07230) seasoned with Lemon Pepper, and Red Pepper powder shaking off excess. Dip in prepared Tempura batter made with beer instead of water and seasoned with...

Fish & Chips – Cut a firm white fish such as Pacific cod into 1 oz strips. Dust fish in dry Tempura Batter mix (code 07230), dip in prepared Tempura Batter made with water or beer, and roll in Authentic Japanese Panko (code 01020) lightly pressing into the batter. Deep fry at 350° until golden...
| U.C.E. CODE | UPC CODE | DESCRIPTION | Granulation Size | Pack |
| --- | --- | --- | --- | --- |
| 07225 | 00890749001235 | Tempura Batter Mix - Extra Crispy | N/A | 25 lb bag |
| 07230 | 00890749001273 | Tempura Batter Mix - Extra Crispy | N/A | 30 lb box |
| 07250 | 00890749001242 | Tempura Batter Mix - Extra Crispy | N/A | 50 lb bag |
| 07850 | 00890749001426 | Tempura Batter Mix - Crispy - GMO Free | N/A | 50 lb bag |
| 07025 | 00890749001259 | All Purpose Seasoned Batter Mix - Light & Crispy | N/A | 25 lb bag |
| 09230 | 00890749001341 | Coconut Batter Mix - prebatter for Coconut Panko | N/A | 30 lb box |
All Product Listing