Real. Authentic. Panko.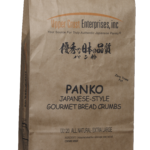 One trend in the food industry that continues to skyrocket is the consumer demand for authentic, real food choices. Real, authentic food with clean simple ingredients is a standout value for consumers in 2017.
Not all Panko is created Authentic
For over 35 years, Upper Crust Enterprises has been producing Authentic Panko breadcrumbs for Japanese and many other restaurants across the globe. Keeping to the traditional Japanese methods and taking the time to do it right in blending, baking, elongated drying process, and grinding is the secret. Upper Crust Enterprises authentic Japanese Panko breadcrumbs are available in All Natural and Organic. All of our Panko is certified GMO Free, vegan and Halal.  The traditional Japanese methods provide a Panko that gives your menu items a light, crispy texture without an oily taste or overly hard texture.
Authentic Japanese Panko with a simple, clean ingredient list:
• Unbleached Wheat Flour
• Organic cane sugar
• Yeast
• Sea Salt
We guarantee our Authentic Panko will:
Taste lighter and crisper.
Stay crispy longer.
Provide a better yield than standard breadcrumbs.
We invite all professional chefs and food distributors to try a free sample of our Authentic Japanese Panko.
Experience first hand what an authentic Panko is and how it will affect your menu. Being Authentic isn't a trend for us, it's how we've been doing it for over 35 years.